WELCOME TO DARNESTOWN
Official Website of the Darnestown Civic Association
New to Darnestown or interested in joining the DCA?
Darnestown, Maryland is a wonderful place to live.  We are fortunate to have a country setting while still being close to conveniences.  There are many activities in and around Darnestown.  We have a Co-ed Softball team that plays in the local park.  We are minutes from the C&O Canal where canoeing, kayaking and biking are enjoyed.  There is a large horse community that has access to wonderful trails in the area and a polo club close by.
Next Town Meeting
Join us for the next town meeting!
Date: March 19, 2020
Time: 7:30 PM
Location: St. Nicholas Episcopal Church
Hot Off The Press!
Read the latest edition of the Little Acorn here.
All news is welcome! If you or your organization would like to submit an article, please send it via email to acorn@darnestowncivic.org.
Easter Egg Roll
Come out and join your neighbors for the Darnestown's 1st Annual Easter Egg Roll! There will be plenty of fun activites for families including an Easter bunny photo op, face painting, egg roll, and more! See details below.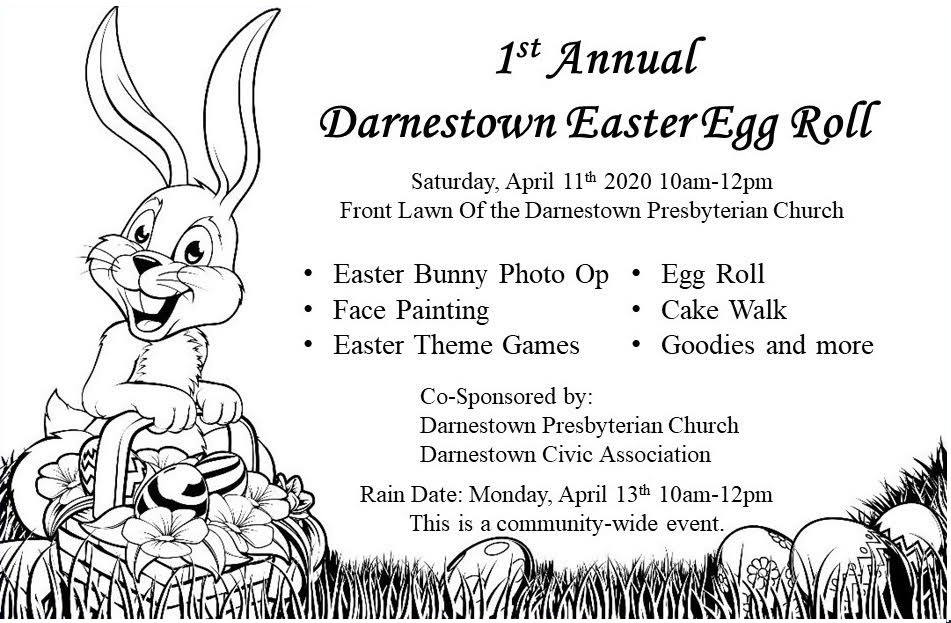 I can recall like it was yesterday... jumping on my one-speed BMX bike as an elementary school boy and pedaling three miles from my parents' house on Black Rock Road up to my friend's house at Wye Oak and 28. From there, we'd count our dollar bills and quarters and...
DARNESTOWN CIVIC ASSOCIATION