WELCOME TO DARNESTOWN
Official Website of the Darnestown Civic Association
New to Darnestown or interested in joining the DCA?
Darnestown, Maryland
is a wonderful place to live.  We are fortunate to have a country setting while still being close to conveniences.  There are many activities in and around Darnestown.  We have a Co-ed Softball team that plays in the local park.  We are minutes from the C&O Canal where canoeing, kayaking and biking are enjoyed.  There is a large horse community that has access to wonderful trails in the area and a polo club close by.
The DCA is committed to support diversity, inclusion, and equity within our association and across our community. Discrimination has no place in our community. We encourage civil engagement. We work to facilitate community discussion with local governing officials who make policies. Our job is to welcome a community of different voices where freedom speaks and equal justice is served.
Dust off your boots and join fellow Darnestownians for the 50th annual Hoedown at Smokey Glen Farm on Friday October 8th. This event is guaranteed to be a boot scootin' blast!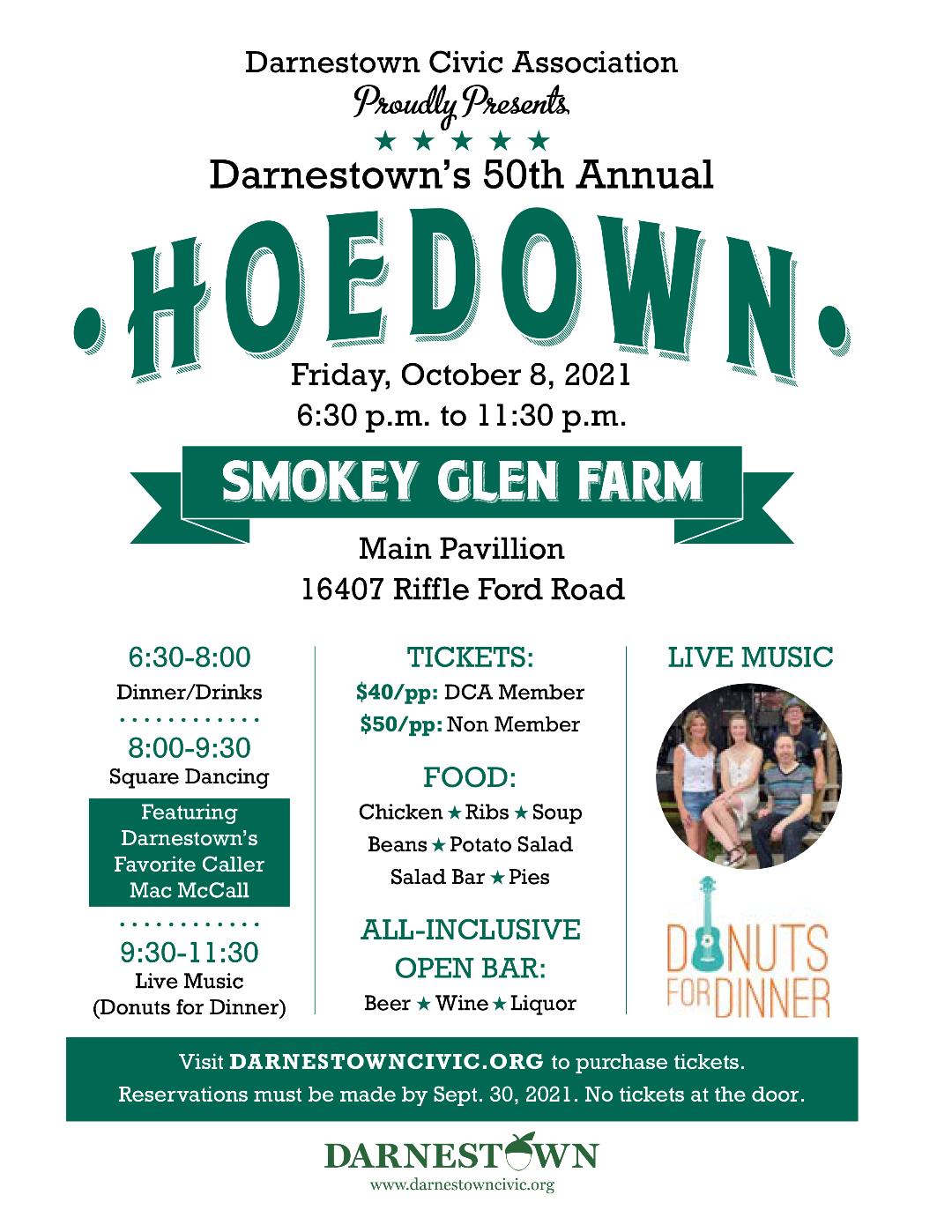 Coronavirus (COVID-19) Information References
In this unprecedented time, the DCA wants to make sure all of our residents have the resources to assist with prevention, preparedness, and support resources, as well as stay abreast on the latest closures and cancellations. The following links to Montgomery County, State of Maryland and CDC websites offer a wide range of information and resources.
Montgomery County Department of Health and Human Services – The definitive authority on disease for the county government – includes the latest information and updates on the County response as well as testing and resource details.
Maryland COVID-19 Pandemic Orders and Guidance
Volunteer response to COVID-19/Coronavirus – Tip on how to be a good neighbor during the COVID-19 (from MC Volunteer Center)
MCPS Coronavirus – includes MCPS-related updates, resources and FAQs
MCPS COVID-19 School System & Community Resources (.pdf download) – full listing of phone numbers and websites for MCPS support services, including family, school, food assistance, psychological, and medical assistance services
Montgomery County Closures & Cancellations – includes links to cancellations for public schools, libraries, senior centers, rec centers, county parks, and county buildings
MD Department of Health Coronavirus – includes information on prevention, risk, preparedness, and FAQs
CDC Coronavirus – includes health and prevention information and as well as various status updates
Top-of-mind to everyone is the current Coronovirus pandemic and its impact, which is the basis for cancelling. In lieu of our meeting tonight:
We encourage residents to call into Congressman David Trone's Telephone Town Hall this evening starting @7:00 – call 855-962-1079.This includes public health officials discussing how you can keep you and your family safe and identify additional legislative actions Congress must take. Congressman Trone will talk about the latest updates and experts will join him on the call to help answer your questions about COVID-19
The DCA will host a virtual 'Darnestown Town Hall' meeting this Monday 3/23 @ 7:30 dedicated to the the Coronavirus (COVID-19) situation.On this call we'll have an open dialogue with residents on the current state affairs – concerns, needs, and discuss the DCA's efforts and other volunteer efforts to support our town.
We will follow up separately with other DCA updates that we would have covered in the Town Meeting and will postpone the Thrive Montgomery 2050 presentation for a couple weeks from now.
Details will be posted here tomorrow (Friday) with registration details for Monday's virtual Darnestown Town Hall.
DARNESTOWN CIVIC ASSOCIATION